As a father of two, there is nothing more that fills my heart than being able to go to church with my wife and kids. I can remember going to church as a child. I can remember my mother worshiping with us at the pew and even sometimes, she would lead the worship. Those are the types of memories that I would like to create for my children. When I see them sing their sweet melody, it elevates my soul. I think what makes this even sweeter, is the fact that my wife and I could not have children at one point. In that time, we kept praying and trusting in God's promises. I learned that the church relies on God and depends on one another. Therefore, to hear my kids bring out a melody...there are no words.
On October 1, of 2017, my wife and kids and I we went to church. There, we sung together, prayed together and together, walked out when the service concluded. On October 2. I took Razielle to school, then made a stop to Tim Horton's before going into work. My wife also had a stop to make before going into work, as Anna had to be taken to daycare. That night I got home and my family awaited my arrival. As usual the girls came running to the door when I came home. We hugged, laughed and spoke about our day. At nightfall, we prayed, like we usually do every night. I kissed my daughter's good night and off I went to bed with my wife. I will admit, I have left out a detail, the world did not seem the same before I went to bed.
On the night of Sunday October 1, a gunman made his way towards the Route 91 Harvest music festival on the Las Vegas Strip in Nevada. Once there, he fired on a crowd of concertgoers, leaving 58 people dead and 546 injured. This heinous act shocked many. On social media everyone had something to say about it. At first, there were more question than answers and when all the information came flooding afterwards, even more questions existed.
That night many parents took their children to enjoy a night out. They went to the concert but never came home. That night many people had plans, not just for the night but for the future. You can imagine the person that saved up to buy the tickets. Told all their coworkers about how they'd saved up for this event, only to never make it to work on Monday morning. Or the young couple that went to the concert, and she didn't know it, but this would be the night he would pop the question and yet, he never got a chance. Dreams, goals and futures all became a broken melody that night. Yet as it tends to happen, life goes on. And the questions that did get answered, brought forth some calm. And as is custom, we forget.
On November 5, of 2017, I went to church with my wife and kids. There, we sung together, prayed together and together, walked out when the service concluded. As we made it home, I get an alert on my phone that at least 26 people were killed in a mass shooting in Texas. I began to read, search and investigate only to find out, it took place in a church. Our church service starts at 11:00 a.m., the mass shooting began at 11:30 a.m. The victims ranged from 17 months to 77 years old, my youngest, Anna, is 2 years old. This sent shock-waves and produced a broken melody.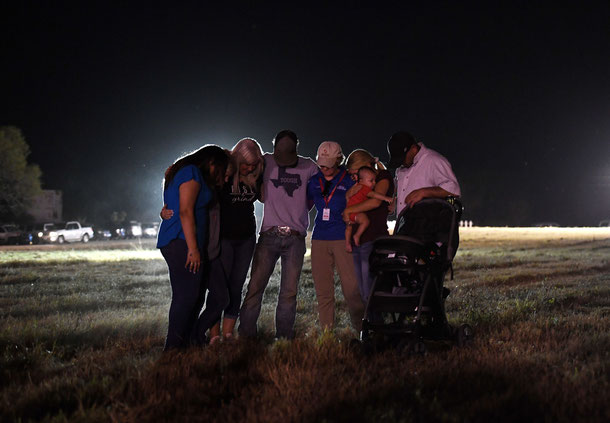 In both instances, I was forced to reflect, as should you. I held my daughter's a little tighter and kissed them till they got annoyed. We prayed like we usually do, but this prayer was special. Not in what we said, but in that we had the chance to say it. I am sad to see how some people used these moment to push their agendas, not realizing that situations like these should remind us, we are all humans. Our issue is not a political one but rather a social one. As a society we must realize, the safe zone exists in only one place.
Is there no safe zone? Yes, but in only one place
Where? In His arms.
It is in Psalm 91 verses one through eight is where we hear David's declaration of the protection of the Most High. "The one who lives under the protection of the Most High dwells in the shadow of the Almighty. I will say concerning the Lord, who is my refuge and my fortress, my God in whom I trust: He himself will rescue you from the bird trap, from the destructive plague. He will cover you with his feathers; you will take refuge under his wings. His faithfulness will be a protective shield. You will not fear the terror of the night, the arrow that flies by day, the plague that stalks in darkness, or the pestilence that ravages at noon. Though a thousand fall at your side and ten thousand at your right hand, the pestilence will not reach you. You will only see it with your eyes and witness the punishment of the wicked."
In such difficult moments our prayers and thoughts are with those affected. Our safe zone is in the arms of the Most High. He is not limited by any event, moment, concert or a service. He watches over us and protects us and promises He will never desert us. I know these events can be a blow to our faith, but keep in mind that the body of Christ, which is the church, relies on God and depends on one another.
We are one.